ETUC annual conference on European Works Council on 2018 October 10 and 11
10.10.2018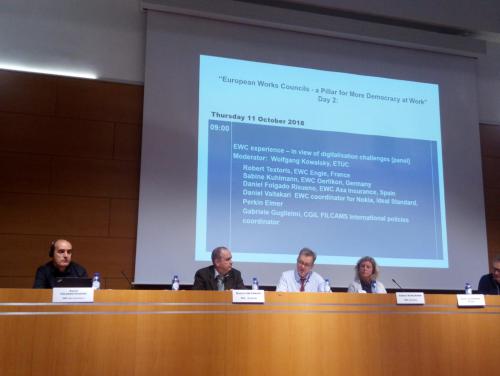 The Annual Conference on European Works Councils was held in Brussels on 10 and 11 October.
Daniel Folgado, delegate of the AXA EWC for Spain, attended as a guest by ETUC (EUROPEAN TRADE UNION CONFEDERATION) to explain the Article included in the Collective Agreement of AXA Spain on Digital Disconnection.
It is a meeting that has been held since 1994, and this time it was about "Democracy at Work". It began at 1pm on the 10th in a first session, and the next 11 in the second. In the afternoon of the 10th all the Delegates present went to the esplanade in front of the European Parliament, where a document with ETUC signatures and proposals was delivered, and we were received by several deputies, except those of the extreme right ...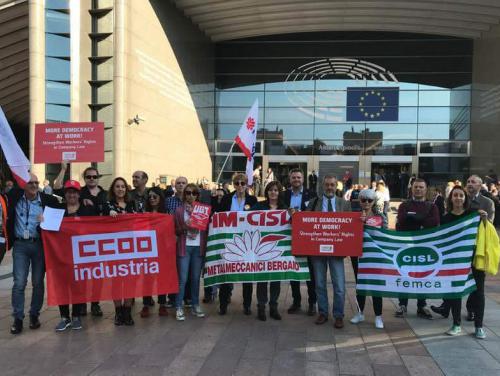 The first day 10 there were several interventions on this issue of democracy at work. Stefan Olsson, DG EMPL Director in the European Parliament gave some information on a Manual of good practices that are being developed to encourage the creation and better functioning of the EWCs. The main concern was that many new EWCs had not been created since the last Directive in 2009.
Subsequent interventions on the voice of workers on the boards of companies and the impacts on this greater democracy in labor relations:
Aline Conchon, industriAll Europe
Herman Soggeberg, CEE Unilever
Norbert Kluge, Fondation Hans-Böckler du DGB
On the following day 11, we talked about negotiating experiences and agreements on digitalisation and the challenges that we face as Trade Union Delegates and as European Committees. Presentations with negotiation practices and agreements reached:
Robert Textoris, EWC Engie, France
Sabine Kuhlmann, CEE et membre du conseil de surveillance, Oerlikon, Allemagne
Daniel Folgado Risueño, CEE Axa assurance, Espagne
Daniel Valtakari coordinateur CEE pour Nokia, Ideal Standard, Perkin Elmer
Gabriele Guglielmi, coordinatrice des politiques internationales chez CGIL FILCAMS
A second part about Brexit in the EWCs, with interventions by
Gerry McCormack, secrétaire général adjoint, SIPTU (Irlande)
Stephen Schindler, EFBWW 
Barry Firth, EWC Coca Cola Royaume-Uni
Janet Williamson, TUC (Royaume-Uni)
The need to keep the British Delegates in our respective EWCs, regardless of what happens with the exit agreement between the UK and the EU, was highlighted at this point. Some examples of negotiations and negotiations carried out in some EWCs, and the need to reach agreements with the management of companies that allow future maintenance of the British delegations.
To finalize a last point on the European Elections to be held soon and our union role in achieving results that will allow Europe peace, democracy, social justice, agreements regarding Digital Transformation and its impact on jobs, ... in short, lobby positively to improve social and economic conditions in the European Union.